FRASCATI 1934: WHO IS WHO ?
An identification contest in honour of Frank Andrews (1910-2015)
In July 2012 Michael Lloyd-Davies sent me an intriguing photograph, which, as it turned out, he had received from CLPGS member Leslie Gage.
The photograph was taken at a Luncheon Presentation in the famous Frascati restaurant in London on Tuesday, October 23rd, 1934.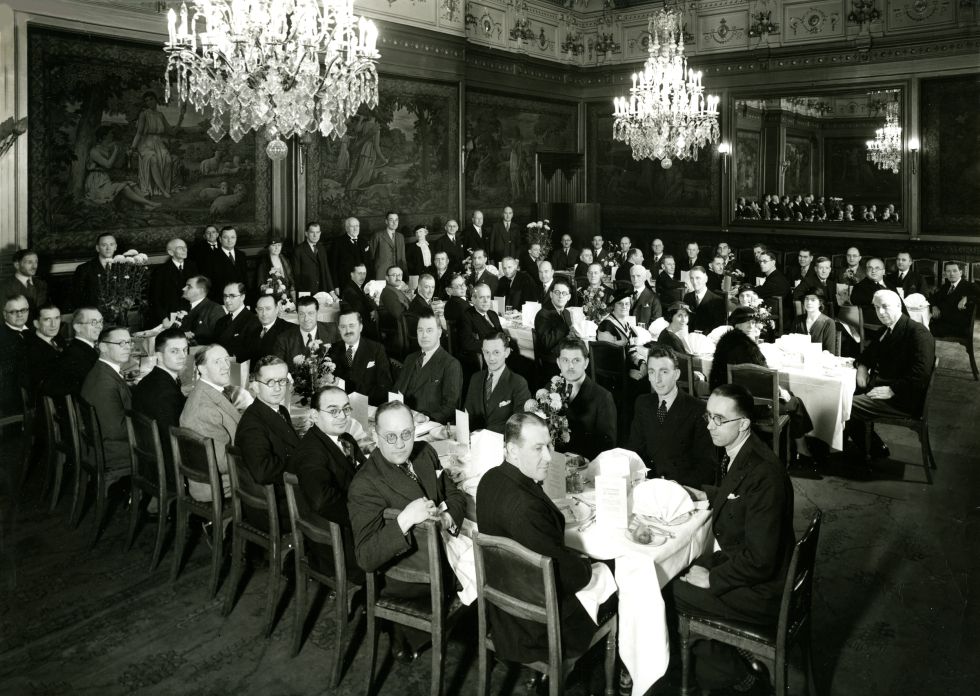 The luncheon was presented in honour of James Van Allen Shields, on the occasion of his retirement from the Columbia Graphophone Co. Ltd and allied interests, and Charles B. Gregory in celebration of his forty years of service with that same company.

The picture shows seventy-one persons: sixty-four gentlemen and seven ladies. We do not know if all people in the picture were directly involved with the record business, but, no doubt, most of them were.

Apart from the obvious guests of honour, James Van Allen Shields and Charles B. Gregory we can also discern a number of other Very Important Persons: Louis Sterling, Alfred Clark, George Croydon ("Lord") Marks and Fred Gaisberg.
Michael Lloyd-Davies had no trouble in recognizing his grandfather, Joe Batten.
We also see recording engineer George W. Dillnutt.

But who are the other ladies and gentlemen in the picture?
Fortunately, the menu of the 1934 Frascati luncheon has also been preserved.
And, what is more, a number of guests have left their signatures on the back of the menu.
So we not only know what kind of food was on offer, but we also know the names of a number of people who were present.

Most of the signatures are perfectly legible.
We recognize the signatures of recording engineers Oscar C. Preuss, Arthur S. Clarke, George W. Dillnutt, Walter S. Barrell and Douglas Larter.
And also the signatures of Herbert C. Ridout, Rex Palmer, William S. Purser and Charles B. Dawson Pane.
Alas, not all signatures are legible or ring a bell…
But there must be people among you who will recognize certain names or can decipher these illegible or partially legible signatures on the menu and can tell who they belonged to.

• The inside of the menu (with a musical doodle by Joe Batten)
• Front and back cover of the menu with signatures
• List of sofar identified signatures

And what about those friends and colleagues in this picture who did not sign the menu?
Since the event was to a large extent a Columbia affair, it is not unlikely that people like Arthur H. Brooks, William T. Forse, Arthur E. Liedtke, Raymond Langley and Alan Dower Blumlein were also present.
But who can point them out in the picture?
We hope you can help us out with the identification of a number of mystery guests.
If you detect a familiar (not yet identified) face among the crowd, please let us know.

• Each person in the picture has been fitted out with a number plate.
hover over this number plate and a detailed portrait pops up.
• List of sofar identified persons.


If you can identify a signature on the menu, or recognize one of the unidentified guests in the picture, send your suggestion to recordingpioneers@gmail.com !
Finally I would like to thank Leslie Gage and go-between Michael Lloyd-Davies for passing on these amazing documents!
Unique material for a website called www.recordingpioneers.com !

Many thanks also to photographer Rob Glastra and my inimitable webmaster, for creating an interactive framework, which hopefully will make identification easier.


Hugo Strötbaum
Recently Leslie Gage sent me two letters - one written by Louis Sterling and the other by John Cromelin - addressed to Charles B. Gregory, congratulating him on his 20 years' service with the Columbia Graphophone Company.
To see these letters go to PIONEER Charles Butler GREGORY on this website.

And, last but not least, he also sent me another excellent group photograph, which was taken on Tuesday, February 26th, 1935 at the Savoy Hotel, London, on the occasion of a Columbia luncheon in honour of Sir Thomas Beecham (in connection with Leeds Musical Festival Records).
A number of familiar faces (also in the Frascati picture), but again, no line-up...
This photograph will therefore receive the same treatment as the Frascati picture and will be presented soon.
For caricatures of the following persons by Lissenden (= Vernon Lissenden Soper?):
See the article OUR MASTERS AND MOTHERS by the London Editor of The Gramophone Christopher Stone in THE GRAMOPHONE of December 1929, pages 293-297.


| | |
| --- | --- |
| PAGE 293 | H. M. LEMOINE |
| | |
| PAGE 294 | A. T. LACK |
| | Alec ROBERTSON |
| | Alfred CLARK |
| | Fred. GAISBERG |
| | W. M. BROWN |
| | Leslie NECK |
| | |
| PAGE 295 | A. E. LIEDTKE |
| | Joseph BATTEN |
| | Louis STERLING |
| | Arthur BROOKS |
| | Raymond LANGLEY |
| | W. T. FORSE |
| | H. C. RIDOUT |
| | |
| PAGE 296 | Oscar PREUSS |
| | Philip LEWIS |