Jerome Robert
NEWMAN

("Jerry")1918 - 1970
aka
Jerome R. Newman, Jerome Newman, J. R. Newman, Jerry Newman, J. Newman
nationality
American
occupation
recording expert
birth
24 Aug 1918, Brooklyn, New York
baptism
death
First week of Jan 1970, recording studio, New York, USA (exact date of death unknown)
burial
Beth David Cemetery, 300 Elmont Rd, Elmont, Nassau County, New York, 11003 USA. Family plot, Sec. 2, Row 3
marriage
on 9 June 1966, Unitarian Church, Kings, New York
Caryl Lynn CLIFTON


b. 27 July 1937, Evanston, Illinois
LIVING

children

Jeremy Nathaniel Clifton


b. 6 Nov 1967, New York
LIVING

Liza


b. .... 1970, New York
LIVING
PARENTS
father
Nathan NEWMAN


b. 15 Jan 1890, Brooklyn, New York
d. 26 Sep 1963, Mount Sinai Hospital, New York

mother
Cecelia/Cecilie G. SCHOENFELD


b. 24/25 Mar 1894/1895, Brooklyn, New York
d. 16 Jan 1981, .............

remark
Their engagement was announced in the NYT of 3 Jan 1916
children

Jerome ("Jerry")


b. 24 Aug 1918, ..............
d. First week of Jan 1970, recording studio, New York, USA (exact date of death unknown

Bette or Betty (Mrs. Adolph M. Lombart)


b. .... <1923>, New York
d. ................
LIFE
owner of Esoteric Records (75 Greenwich Avenue, New York)


1910 CENSUS (Brooklyn, Kings Co., New York)
Bernard NEWMAN (57y) m 35 yrs., b. Russia, both parents b. Russia, imm. 1885, occupation - tailor
Rebecca NEWMAN (55y) mother of 7 children - 5 still living, b. Russia, imm. 1885
- Simon (27y) b. ENGLAND salesman/real estate
- Louis (25y) b. ENGLAND cutter/tailor shop
- Samuel (22y) b. NY bookkeeper/Life Ins.
- Nathan (20y) b. NY salesman/jewelry store

1920 CENSUS (19 Jan 1920, Queens, New York / Long Island, Arverne Village)
Nathan NEWMAN (30y) jewelry salesman
Cecelia NEWMAN (26y)
- Jerome R. (1y5m)



Jerome NEWMAN (21y)
SS "NORMANDIE"
dep.: Le Havre, FRANCE 9 Aug 1939.
arr.: New York, 14 Aug 1939
born: 24 Aug 1918, Brooklyn, NY
Address in US: 216 E. 45th Street, N.Y.C.



1940 CENSUS (1940, Manhattan, New York)
Nathan NEWMAN (50y) jewelry manufacturing
Celia NEWMAN (47y)
- Jerome R. (21y) saleman jewelry
- Bette (23y)



... thanks to a Columbia University student named Jerry Newman. A twenty-three-year-old junior who loved jazz and played trombone in the university marching band, Newman owned a portable Wilcox-Gay Recordio "disc cutter" that made recordings directly onto acetate discs. (in: Thelonious Monk: The Life and Times of an American Original by Robin D. G. Kelley)

An even more striking example is a series of recordings made at Minton's Playhouse, an after-hours club located in the Hotel Cecil at 210 West 118th Street in Harlem by Columbia student Jerry Newman on a portable disk recorder in [May] 1941. Newman captured Christian, accompanied by Joe Guy on trumpet, Kenny Kersey on piano and Kenny Clarke on drums,[20] stretching out far beyond what the confines of the 78 RPM record would allow. His work on "Swing to Bop", a later Esoteric Records company re-title of Eddie Durham's "Topsy," is an example of what Christian was capable of creating "off the cuff." (source: Wikipedia)

May 8, 1941
Place: Minton's Playhouse, New York City.
Minton's House Band and guest artists (Joe Guy, Hot Lips Page (tp) Kermit Scott, Don Byas (ts) Thelonious Monk (p) Charlie Christian (g) Nick Fenton (b) Kenny Clarke (d). Add Rudy Williams (as) on Stompin' at the Savoy)
1. Up on Teddy's Hill (Esoteric 548) 2. Down on Teddy's Hill (Esoteric 548) 3. Stompin' at the Savoy (unreleased)
Notes: Esoteric 548 is titled Harlem Jazz. The label was launched by Jerry Newman who made these recordings in the first place. The first two titles also appeared on Live Sessions At Minton's (Everest FS 219) and The Great Dizzy Gillespie (Society SOC996)
____________________________________________________________

May 12, 1941
Minton's Playhouse, New York City
Minton's House Band, featuring Charlie Christian (Joe Guy (tp) Thelonious Monk (p) Charlie Christian (g) Nick Fenton (b) Kenny Clarke (d))
1. Stompin' at the Savoy (Esoteric 548) 2. Topsy [Charlie's choice] (Esoteric 548)
Notes: These titles also released on Charlie Christian/Dizzy Gillespie, 1941: Historical Performances (Vogue 600135).
____________________________________________________________

June/July 1941
Minton's Playhouse, New York City
Minton's House Band (Joe Guy (tp/vcl), Al Sears (ts-1), Thelonious Monk (p), Nick Fenton (b), Kenny Clarke (d), Viola Jefferson (vcl), Duke Groner (vcl).)
1. Theme [Epistrophy] 2. The Sheik of Araby (1) 3. Mean to me (1) 4. I got rhythm (1) (vcl Jefferson) 5. Theme [Epistrophy] (1) 6. Theme [Epistrophy] 7. Indiana (1) 8. I've found a new baby (1) 9. Theme [Epistrophy] (1) 10. Theme [Epistrophy] 11. Sweet Georgia Brown 12. Everything happens to me (vcl – Groner) 13. Rear Back (vcl – Guy) 14. Meet Dr. Christian [Rhythm-a-ning] 15. I Understand (vcl – Groner) 16. Topsy 17. Theme [Epistrophy]
Notes: All titles unreleased; recording made by Jerry Newman for a Columbia University Radio Club broadcast, located in archives of WKCR Columbia University.
____________________________________________________________

June/July, 1941
Minton's Playhouse, New York City.
Minton's House Band (Joe Guy (tp), Jerry Newman (tb), Herbie Fields (ts), Thelonious Monk (p), Nick Fenton (b), unknown (d))
1. I Surrender Dear (Unreleased)
(source: Thelonious Monk: The Life and Times of an American Original website by Robin D. G. Kelley)

WORLD WAR II Enlistment Records 1938-1946
Jerry R. NEWMAN, b. 1918, New York
residence: New York
Enlistment date: Dec. 19, 1941
place: New York City
rank: private
Education: 2 years of college
occupation: technicians, except for laboratory
single, without dependents
ht. 67 inches, wt. 172, white

1942 WORLD WAR II Draft Registration
Nathan NEWMAN (Jerry's father)
749 West End Ave., NY
age 52
b. Brooklyn 1-15-1890 [= 15 Jan 1890]
contact person: Mrs. Cecelia G. NEWMAN (same address)
employer: Silbermann, Kohn and Wallenstein, Inc., 216 East 45th St., New York City

A student at Columbia University, 1941, and a friend of Seymour Wyse. Newman recorded jazz performances at Minton's Playhouse and Monroe's Uptown House, Harlem, featuring Charlie Christian, Dizzy Gillespie, and Thelonious Monk, on his disc-cutting machines. Joined the U.S. Army in 1942 and took part in the Normandy invasion, 1944. Launched the Greenwich Music Shop with Seymour Wyse, 1948, and also founded the record labels Esoteric and Counterpoint, on which he released some of the recordings he'd made in the jazz clubs. Met Kerouac during this time. They became good friends, and Newman recorded Kerouac singing in his studio. (source: The Kerouac Companion. A guide to the Duluoz Legend and related works. Compiled by Dave Moore (website))

Muzio Disks To Be Reissued on LP - Eight operatic selections by soprano Claudia Muzio in 1917 will be issued on a single long-playing disk November 1 by the Esoteric Record Corporation. The label, newly organized by Jerry Newman, Bill Fox and Seymour Weiss [= Wyse], has obtained enough additional Muzio masters, all private recordings, to make up two more 12-inch LP platters soon. (in: Billboard of 29 Oct 1949)

On 1 Dec 1949 Newman records Arnold Schoenberg's Serenade, Op. 24 for baritone voice and seven instruments (in: The New York Times of 10 Dec 1949)

Esoteric Records, LP diskery owned by Bill Fox and Jerry Newman, recorded a new Poulenc work last week, with ork conducted by Edward Fendler... (in: Billboard of 4 March 1950)

Esoteric Hires Dr. Gunther for Vienna Date - Esoteric Records, New York LP diskery headed by Bill Fox and Jerry Newman, of the Greenwich Music Shop, has commissioned Dr. Felix Gunther to conduct a modern longhair work in Vienna. The work is a set of music by Hindemith, written for a Plon music festival. It will be performed by the Vienna Chamber Symphony. Esoteric is also bringing out a second set of Claude Muzzio [sic] renditions on LP within 10 days. Selections were cut by the late soprano about 25 years ago. (in: Billboard of 19 Aug 1950)

Esoteric Joins Jazz Field Via Vox Buy New York, Jan. 13 [1951] - Esoteric Records, which till now was specialized in longhair output, will debut in the jazz field with an LP version of the Charlie Christian Memorial Album. Jerry Newman, partner in Esoteric, purchased the masters from Vox, which had issued the set on shellac. These recordings have now come full circle, since it was Newman who originally recorded them at a jam session in 1941 at Minton's, the Harlem nitery usually credited with being the cradle of bop. Newman subsequently sold the waxings to Vox, and they have since registered as a leading catalog item in the field. The disk will be a 10-inch LP retailing at $4, with liner notes by Leonard Feather. (in: Billboard of 20 jan 1951)

Harlem Jam Sessions Partly because of the limitations of 78 r.p.m. records, jazz has become identified with the popular song in length and even in style. Longplaying disks provide opportunity to give a more realistic picture. Esoteric Records - which has issued some notable music in the "serious" category - gives us much of the supercharged jam session atmosphere in Charlie Christian (ten-inch).
The place is a jazz heaven, Minton's Playhouse, in Harlem. The time is 1941, when the late Charlie Christian was startling the jazz world by playing inventive clarinet-type melody on his electric guitar. A young fan named Jerry Newman went up with his tape recorder [Huh? Tape recorder? - HS] and captured some fine improvising in ten-minute lumps as well as a bit of the surrounding night-club atmosphere.
The two selections are Swing to Bop and Stompin' at the Savoy. Mr. Christian and Joe Guy, trumpet, take prominent, extended solos with a rhythm section in the background. They create a varied impression of intense concentration, cynical humor, technical competence and lapses of continuity that seem to represent the spirit of the day. by C. H. (in: The New York Times of 22 April 1951)

March 1952: Nicanor Zabaleta: Villancete (Anonymous) "Harp Music - XVI Century Spanish Masters, Contemporary French and Spanish," recorded in New York (probably not issued) March 1952 by Esoteric Records (serial number ES-509 A/B - matrix nos. E2 KP 2546/2547)

MUSIC NOTES Peggy Glanville-Hicks, composer, and Nicanor Zabaleta, harpist, will be guest artists in Henry Cowell's modern music course tonight at the New School for Social Research. (in: The New York Times of 7 March 1952)

MUSIC NOTES Tonight's events: New Music Society, concert of Hispanic Music featuring Nicanor Zabaleta, harpist, Museum of Modern Art, 8:30 (admission free) (source: The New York Times of 10 March 1952)

SPANISH PROGRAM PRESENTED HERE; New Music Society's Concert Includes Glanville-Hicks Harp Sonata, Paul Bowles Songs... Spain's contribution to the world's musical culture is far less well known than that of Germany, Italy and France, but the New Music Society demonstrated last night at the Museum of Modern Art that Spain has been, and continues to be, the source of much c... by Ross Parmenter (in: The New York Times of 11 March 1952)

article "How a Small Company Works" by Jerry Newman (in: The New York Times of 30 Mar 1952) see: PHOTOS section

In 1952 Jerry Newman visited France (CONTREPOINT/VOGUE)

ABROAD: There is such a heavy demand for French performances on American disks that companies are sending their own engineers there. Jerry Newman of Esoteric Records will sail on 18 April [1952] with modern tape equipment to record for his own and other small companies (The New York Times of 24 Feb 1952).




Jerome NEWMAN (33y)
SS "Liberté"
Dep.: New York, 18 Apr 1952
Arr.: Le Havre, FRANCE, .. Apr 1952
11 W 18th St , New York City


In May 1952 Newman records "Socrate" (Symphonic Drama) by Erik Satie (The Paris Philharmonic Orchestra conducted by René Leibowitz) (ES 510 / matrix nos. E2-KP-5242/5243).
Recorded in Paris (probably Neuilly-sur-Seine) in May 1952, FRANCE


In July 1952 Newman made flamenco recordings on Majorca (SPAIN): Pedro Jimenez aka "El Pili" (cantaor/vocals) with Mario Escudero and Alberto Velez on guitars (Flamenco ESOTERIC - ES-2001 A/B - matrix nos.: E2-KL-7717/E2-KL-7718 (33⅓ rpm 10"/25cm LP))
- Also issued on ESOTERIC - ES 543. Matrix nos. GB-OP-8131/GB-OP-8132 (33⅓ rpm 12"/30cm LP)
Cover – Cynthia Pennell
Flamenco Guitar – Alberto Vélez (tracks: A1, to A4, A6, A7,), Mario Escudero (tracks: A1 to A7)
Flamenco Guitar – Miguel Garcia (7) (tracks: B1 to B5, B7), Ricardo Blasco (tracks: B2, B4 to B7)
Vocals – Chinin De Triana (tracks: B1, B3, B5, B7), El Pili (tracks: A1, A3, A6)
- Later issued in 1957 on COUNTERPOINT - CPT 543 (33⅓ rpm 12"/30cm LP)
- also on Australian label W & G - WG ACE 364 (1957)
- Recordings of El Pili are also found on PERIOD [RECORDS] RL 1933: El Pili and his ensemble: Cante Hondo - Cante Flamenco (33⅓ rpm 12"/30cm LP)


Algiers, July 1952 Music of the Arab People Vol. 1 Morocco-Algiers-Tunesia: The Toraia Orchestra of Algiers (ESOTERIC - ES 2002 - matrix nos. E2-KL-7723/7724) (33⅓ rpm 10"/25cm LP))
Music of the Arab People Vol. 2: Morocco-Algiers-Tunisia: Toraia Orchestra of Algiers (ESOTERIC - ES 2003 : matrix nos.: CB-833 / CB-834) (33⅓ rpm 10"/25cm LP))


Sep 1952, recorded in Paris: Sonar Senghor And His Troupe: African Tribal Music And Dances (Esoteric Records - ES-513, matrix nos. E2-KP-8441/E2-KP-8442 (33⅓ rpm 12"/30cm LP)
Recorded with U-47 Telefunken microphone and Ampex model 401A tape equipment. Reproduced and mastered on Scully lathes equipped with Western Electric feedback cutter heads.
This Senegalese musician formed a troupe in Paris in the late 1940s that brought traditional African music to France. This 1950s album features them performing in a variety of West African styles. (1997 comment by Don Yates on internet)
Sonar Senghor formed his troupe in Paris in 1948 to present indigenous African music. By 1952, their lively interpretations of African dances and songs were regularly featured at the Folies Bergeres. Hewing to traditional rhythms of Senegal, Guinea, Cameroon, the Ivory Coast and Gambia, Sonar brought tribal music to a European audience for the first time. (internet)
Born into an aristocratic family in Senegal, Sonar Senghor went to France to study in 1946, and was disowned by his father after declaring his intentions to stop studying law and pursue a career in the theater. With his fellow African emigres Melo Kane and Moka Bock, he formed a troupe to perform the native dances and songs of Africa, afterwards being joined by two other African students, Fara Diagne and Tio Tio Basse. The group toured Europe in the 1950s and recorded an album, Lost Africa, which incorporated rhythms and tribal songs from all over West Africa. They were among the first performers to expose this music to European culture, and Lost Africa, while sounding a bit rawer than later recordings of African tribal music, is if anything all the more attractive for that. (biogrtaphy by Richie unterberger on internet)


On 30 Oct 1952 Newman recorded Flemish choral music by The Ghent Oratorio Society (Koninklijke Gentse Oratoriumvereniging = GOV) at a studio in Rijsel (= Lille) in northern France, entitled LITTLE RECEPTION, Boulevard de la Liberté (ESOTERIC - ES 514 (monaural) and 5514 (simulated stereo) : COUNTERPOINT/ESOTERIC CPTS 5514-A/B)





Jerome NEWMAN (34y) single
S.S. "LIBERTÉ"
Dep.: Southampton, UK, 28 Oct 1952
Arr.: New York, 3 Nov 1952
Address in U.S.: 11 W. 18th Street, N.Y.C.

Jerry Newman, of Esoteric Records, is back after a six-month European tour covering Paris, Spain, Belgium and North Africa. (in: Billboard of 8 Nov 1952)


Jerry Newman of Esoteric Records has set Contrepoint Records of Paris to press the firm's jazz disks for Europe. Esoteric jazz disks will be issued in France under the Vogue label (in: Billboard of 13 Dec 1952)


The first Esoteric LPs are said to have been issued in May 1953 (source/veracity unknown - HS).


Between late December 1953 and early March 1954: Newman records The Royal Festival Company of Greece (directed by Dora Stratou) during their 1953-1954 US/CANADA/CUBA tour
ESOTERIC RECORDS Panegyris Vol. 1 (ES 527 - matrix nos. E4-KP-2761/2762)
Maureen Russell, Head of Cataloging & Archivist, reported that the UCLA Ethnomusicological Archive (Los Angeles) has Panegyris Vol. 2 with the record number ES-531 (matrix nos. E4-KP-2763/2764). On its label the date: August 1954. This is the release date.


13 March 1954 Al Haig
PERIOD [RECORDS] SPL 1104 A/B (10"/25cm LP) (recorded by Jerry Newman, according to sleeve notes by Leonard Feather)
One of three albums that pianist Al Haig led in 1954 before slipping away into obscurity for the next 20 years, this long out-of-print set was reissued on CD by the Spanish Fresh Sound label. The bop pioneer is heard swinging 13 jazz standards, accompanied by bassist Bill Crow and drummer Lee Abrams. Few surprises occur in this straightforward and concise set other than the inclusion of the Dixieland standard "Royal Garden Blues," but it does give listeners a good example of Al Haig's abilities. Recorded at the Esoteric Studios by Jerry Newman. New York City, March 13, 1954. ARTISTS Al Haig (piano); Bill Crow (bass); Lee Abraams (drums)


On 13 March 1954 (New York) Jerry Newman also recorded Oscar Pettiford (b & cello), Al Cohn (tnr), Kai Winding (tbn), Tal Farlow (g), Henri Renaud (p), Max Roach (d)


Recorded in Kankan and Karala (Malinké) and Atieguakro (Baoulé)(Africa) in 1954(?) (recorded by Jean Schwartz & Bourahima Koroma with Gilbert Rouget) Music of the Malinké (ESOTERIC - ES 529 A/B - matrix nos. E4 KP 7125/7126)
Later also issued as:
- Music of Africa: Music of the Malinké / Music of the Baoulé on EXTRA 1124 (30cm LP) (Licensed from EVEREST RECORDS, USA. Manufactured and Distributed by TRANSATLANTIC RECORDS, London.)
- Musique d'Afrique Occidentale / Music from West Africa in the Collection Musée de l'Homme (VOGUE LDM 30.116. Paris, 1972)


Esoteric Sets Autumn Plans New York, Aug. 14.: Esoteric Records this week announced its fall promotion plan and some of the key merchandise to be issued by the label. Plan calls for an additional 20 per cent discount and a dating program which calls for dealer payments on the 10th of October, November and December. The merchandising program will be made available to all dealers thru the Esoteric distributors. Among the key items in the fall album release are a jazz package featuring the late Sonny Berman and many of the sidemen in the 1946 Woody Herman band when the performances took place, a package featuring the instrumentalists and singers of dancer Jose Greco's troupe, Stefan Wolpe's percussion quartet featuring jazzman Al Cohn on tenor and other jazz sidemen, a package of Greek folk music as performed here on the recent tour of the Royal Festival Company and a Bethe Dougle-Larry Carr album of show tunes (in: Billboard of 21 Aug 1954).


Stefan Wolpe Recorded Sep 1954 (cannot be correct in view of the above cited Billboard article - HS), Esoteric Studios in New York. Originally released as Counterpoint/Esoteric 12-inch LP ES-530 and CPTS-5530.
STEFAN WOLPE: Passacaglia. These historic recordings, available for the first time in nearly half a century, mark the first recorded work of maverick composer and teacher Stefan Wolpe. The three selections here, "Sonata for Violin and Piano" (1949), "Passacaglia for Piano" (1936), and "Quartet for Trumpet, Tenor Saxophone, Percussion and Piano," (1950/1954) were recorded exceptionally by Jerry Newman in Esoteric Studios in New York, shortly before Wolpe left his post at Black Mountain College and moved permanently to New York City where he became a friend and colleague to the still burgeoning New York artists scene filled with composers and poets. Wolpe had been an instructor of Morton Feldman's in 1944 and met Cage near the same time that had recommended him for the Black Mountain post.
Un Poco Allegro 6:07
Andante Appassionata 7:35
Lento-Scherzo Vivo-Lento 3:17
Allegretto Deciso 8:37
Passacaglia for Piano 12:08
Quartet for Trumpet, Tenor Saxophone, Percussion and Piano 13:02


Jerry Newman, who owned Esoteric Records at 75 Greenwich Ave. near this corner, employed writer Seymour Krim [As David Moore pointed out to me "Krim" is not correct. It should be "Wyse"] as a clerk. He had been a classmate of ......) (source: The beat generation in New York: a walking tour of Jack Kerouac's city by Bill Morgan (1997) (p. 67-68))

Jerry Newman and Bill Fox have nursed their Esoteric Records along to the point where they have now purchased their own building in New York City. They are busy setting up a recording studio in their new headquarters. (in: Billboard of 10 April 1954)

Esoteric Records, Inc., are completing a new recording studio at 238 East Twenty-sixth Street which features soundproofing, air conditioning and controlled reverberation time. Control of reverberation is by means of hinged acoustical panels designed by Lewis Goodfried, who planned the acoustical treatment of the studio. The electrical, microphonic and technical engineering are the work of Roy Friedman, chief of recording at Reeves Sound Studios (in: The New York Times of 20 June 1954).

Artistry in Flamenco (1-10") Esoteric ESJ 8 - A colorful package of flamenco-styled guitar playing which should appeal to collectors in its special market. Four of the selections are instrumental, while Chinin de Triana provides an exotic note on several plaintive vocals. Excellent technical reproduction and fine performances by De Triana, Perez [= Miguel] Garcia and Ricardo Blasco. All three artists were, at the time of the recording, members of José Greco's company (in: Billboard of 18 Dec 1954, p. 32).
These recordings were made between late April and July 1954 during the 1954 U.S. tour of the José Greco Company.

Esoteric Records presents two disks by the Royal Greek Festival Company (at a festival of music at Biarritz, Spain) that have performances closer to concert level. Greek Folk Songs and Dances is one title, Island and Mountain Songs the other (in: The New York Times of 4 Sep 1955)

Thad Jones recorded in December 24, 1956 at the Esoteric Sound Studios in New York City and in January 6, 1957 at the Esoteric Sound Studios in New York City

Esoteric Bill splits with Stereo Jerry. - Bill Fox and Jerry Newman partners in Esoteric records and recording studios have split up their operations. Fox has become sole owner and operator of Esoteric label, and Newman has taken over the recording business. Newman's enterprise, dubbed Stereo Sound Studios, will remain in the same location, and has installed stereo equipment. In addition, Newman has started a school of tape editing, wherein he teaches complicated splicing, general microphone use, basic electronics and a brief outline of sound recording. Esoteric's first project under the new regime will be the re-issuing on 12-inch LP's of several historic jazz sets, formerly on 10-inch. These include material by Dizzy Gillespie and the late Charlie Christian. (in: Billboard of 24 June 1957)

Esoteric Goes Counterpoint NEW YORK. Esoteric Records is changing its name to Counterpoint Records. The change in title of the firm name marks an increased emphasis on pop, jazz and classical disk material, according to Bill Fox, mahoff of the label. Pop a.&r. chief Rudy de Saxe has already set single recording dates for Serena Shaw. The label also plans fall release of 10 stereo tapes including material in folk, jazz and classical idioms. (in: Billboard of 9 Sep 1957)

He is co-proprietor of Esoteric, with Bill Fox, but he makes his living as a free-lance engineer; he has been in the booth ... 'Man, why don't you put out some real crazy discs that nobody 'd want to buy, call them Esoteric Records. (from "On Record" in: Esquire: the magazine for men Volume 47 of Jan 1957 (p. 28)
..... in the doll-sized control room of the recording studio at Esoteric Records, 'and I was taking a university extension course in psychology. We had a lab hour and people would come in and say strange things so we could study them, and we used to have a mike hidden and record what they said. The guy who ran the machine was a friend of mine ..... before that I'd been passing time with Bob Bach over at CBS, and he'd said, 'Man, why don't you put out some real crazy discs that nobody'd want to buy, call them Esoteric Records.' You know, we sold about four thousand copies of the Muzio records. What kept the Muzio disc .....

Esoteric Now in Eichler Wigwam New York - The sale of Esoteric-Counterpoint Records to the Eichler Record Corporation, rumored in the trade for several weeks, was consummated this week ............ (in: Billboard of 7 Mar 1960)

There are four other songs on the CD, all sung by Jack, backed by jazz musicians in his friend Jerry Newman's New York recording studio in the late 1950s or early '60s. On these standard ballads, although obviously high, Jack performs creditably, even if he does invent some lyrics of his own along the way, and the quality of his singing voice is bound to be a pleasant surprise for many. (Jack Kerouac - Reads on the Road (Audio CD - Rykodisc))

Various Disconnected (The Dial-A-Poem Poets)
Label: Giorno Poetry Systems GPS 003
Format: 2 × Vinyl, LP, Compilation
Country: US
Released: 1974
Genre: Non-Music
Style: Poetry, Spoken Word
(Paul Blackburn: The Once-Over (From Brooklyn Manhattan Transit), recorded by Jerry Newman and Eugene Brooks, New York, September 1963)

Clifton-Newman WILMETTE, Ill., May 14 [1966] - Mr. and Mrs. Charles Edward Clifton Jr. have made known the engagement of their daughter, Miss Caryl Lynn Clifton, to Jerome Robert Newman. He is the son of Mrs. Nathan Newman of New York and the late Mr. Newman. (in: The New York Times of 15 May, 1966)

NEWMAN - Mr. and Mrs. Jerry Newman (née Clifton) happily announce the birth of their son, Jeremy Nathaniel Clifton, on Dec. 20, 1967. (in: The New York Times of 31 Dec 1967)

Esoteric Records, Inc. was later known as Counterpoint, Counterpoint/Esoteric (Everest Records Production), and Everest Records.

Rudy De Saxe

After Jerry Newman's death a certain Don Schlitten looked took care of Jerry's stuff (source: NOS Jazzgeschiedenis, No. 146 (Michiel de Ruyter))

EVEREST RECORDS was a stereophonic record label based in Bayside, Long Island started by Harry D. Belock and Bert Whyte in May 1958. It was devoted mainly to classical music. (in: Everest Records (WIKIPEDIA))
Everest Record Group
10914-A Kinross Avenue
Los Angeles CA 90024

Everest (also Everest Records) is an American label, originally based in Long Island, New York ... 1958. The label was sold to Bernard Solomon, former accountant for the Belock Instrument Corporation ... , in 1962. Solomon relocated the label to Los Angeles, California. The label was originally dedicated

Bernard C. (or E.) Solomon bought Everest in 1962 (in: Billboard of 3 March 1962)

NEW YORK - Bill Fox has been named production coordinator of the VANGUARD Recording Society. He formerly headed Esoteric/Counterpoint Records and also handled production for the Eichler Record Corporation (in: Billboard of 12 Dec 1964)

Bill Fox - Bill Fox is Vanguard's production co-ordinator. Since joining the company in 1964 he has been primarily responsible for the co-ordination of the many activities necessary to produce and release Vanguard's 120 or more records yearly. To face the numerous problems which may turn up on the desk of a trouble shooter Fox can draw on nearly 20-odd years of experience in the music business. In 1949 Fox formed Esoteric (and later, Counterpoint), one of the first of the independent record companies. Concurrently, from 1952 until 1957, Fox operated Stereo Sound Studios [I thought that was Jerry Newman's job - HS). After Esoteric was sold in 1962, Fox spent a year and a half with Eichler records, producing budget records. (in: Billboard of 19 Nov 1966)

Bernard ("Bernie") Solomon

In 1950 brothers Maynard and Seymour Solomon [apparently not related to Bernard Solomon] set up VANGUARD label

Bill Fox joins VANGUARD in 1964

The Everest masters were located in a California vault in 1993 by Seymour Solomon, president of Omega Records and founder of Vanguard Classics. In recent years, some of Everest's audiophile recordings of the Belock/Whyte era have been reissued on compact disc by Collectables Records, DCC Compact Classics, Omega, and Vanguard Classics and on CD, DVD-Audio and LP by Classic Records.


NOTES
Obituary in a French jazz magazine: Mort de Jerry Newman by D. [= Dan] Morgenstern (in: Jazz Magazine no. 179 of 14 Jun 1970)
Texan jazz by Dave Oliphant, pp. 194-195
Brilliant Corners: a bio-discography of Thelonious Monk by Chris Sheridan (p. 8)
Jack Kerouac: King of the Beats : a Portrait by Barry Miles (p. 67)
From Birdland to Broadway by Bill Crow
Pied Piper: the many lives of Noah Greenberg by James Gollin (p. 131/133/137-141/144-146/155-156/175/177-178)
Billboard of 29 Oct 1949, p. 48
Schoenberg Work Recorded (in: The New York Times of 10 Dec 1949)
Billboard of 4 March 1950
The New York Times of 22 April 1951
Copyright Plea. Would Nix Poetry Disk Exclusives. New York, Jan 26,. 1952 {in: Billboard of 2 Feb 1952, p. 22)
The New York Times of 24 Feb 1952
The New York Times of 7 March 1952
The New York Times of 10 March 1952
The New York Times of 11 March 1952
How a Small Company Works by Jerry Newman (in: The New York Times of 30 Mar 1952)
Music in the Making: The man who stopped recording as Bird began to blow by Mike Nevard (in: Melody Maker of 1 Nov 1952)
Billboard of 10 April 1954
The New York Times of 20 June 1954
Esoteric Sets Autumn Plans (in: Billboard of 21 Aug 1954)
Festival of Music by Ross Parmenter (in: The New York Times of 4 Sep 1955)
Billboard of 24 June 1957
On Record by Martin Mayer (in: Esquire: the magazine for men: Volume 47 of Jan 1957 (p.28)
Jack Kerouac: selected letters, 1940-1956 by Jack Kerouac / Edited by Ann Charters (Viking, 1995 / University of Michigan) ISBN 0670849529, 9780670849529
Esoteric Now in Eichler Wigwam (Billboard of 7 Mar 1960)
Billboard of 3 March 1962
Nathan Newman, Jewelry Maker - Benefactor of an Orphanage in Macao Dies at 77 (in: The New York Times of 27 Sep 1963)
From Bach to Baez: the Vanguard Story by John Conly (Vanguard special in: Billboard of 19 Nov 1966, pp. V-1 & V-8 (about Bill Fox, Maynard and Seymour Solomon with pictures of Vanguard staff on pp. V-4 and V-5)
The New York Times of 31 Dec 1967
New York Pro Musica/Noah Greenberg - A discography. Conception & research: Pierre-F. Roberge (internet)
The beat generation in New York: a walking tour of Jack Kerouac's city by Bill Morgan (1997) (p. 67-68)
Thelonious Monk: the life and times of an American original Biography & autobiography by Robin D. G. Kelley (Free Press. New York, 2009) also website (p. 154)
Noah Greenberg and the New York Pro Musica: The Career, Reception, and Impact by Eriko Aoyama (dissertation of 2004)
NOS Jazzgeschiedenis 146 (Michiel de Ruyter) (internet)
A History of WKCR's Jazz Programming. An interview with Phil Schaap. Conducted, transcribed, and edited by Evan Spring (October 5th, 1992)
Everest Records (WIKIPEDIA)
ARSCLIST Discussion List on internet (John Ross & David N. Lewis)
Jerry Newman Redux discussion (in: CharlieChristian@yahoogroups.com) on internet (David Sadowski and others)
LF - Jerry Newman organissimo jazz forums: discussion between members (internet)
The Kerouac Companion. A guide to the Duluoz Legend and related works. Compiled by Dave Moore (website)
Souvenirs de théâtre d'Afrique et d'Outre-Afrique : Pour que lève la semence, contribution à l'édification d'un théâtre noir universel by Maurice Sonar Senghor (Africa's First Theater Director) (l'Harmattan. Paris)
Ghostcapital (music blog) internet
My really best friend ...: an interview with Seymour Wyse by Dave Moore [First published in The Kerouac Connection, 3-6 (1984-85). Reprinted in Kerouac at the "Wild Boar" & Other Skirmishes, edited by John Montgomery, Fels & Firn Press, 1986.]
Tantus Cantus published by the Gentse Oratoriumvereniging (1998), pp. 39-40
PHOTOS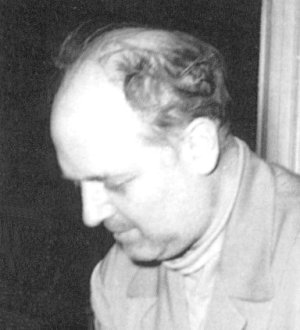 Jerry Newman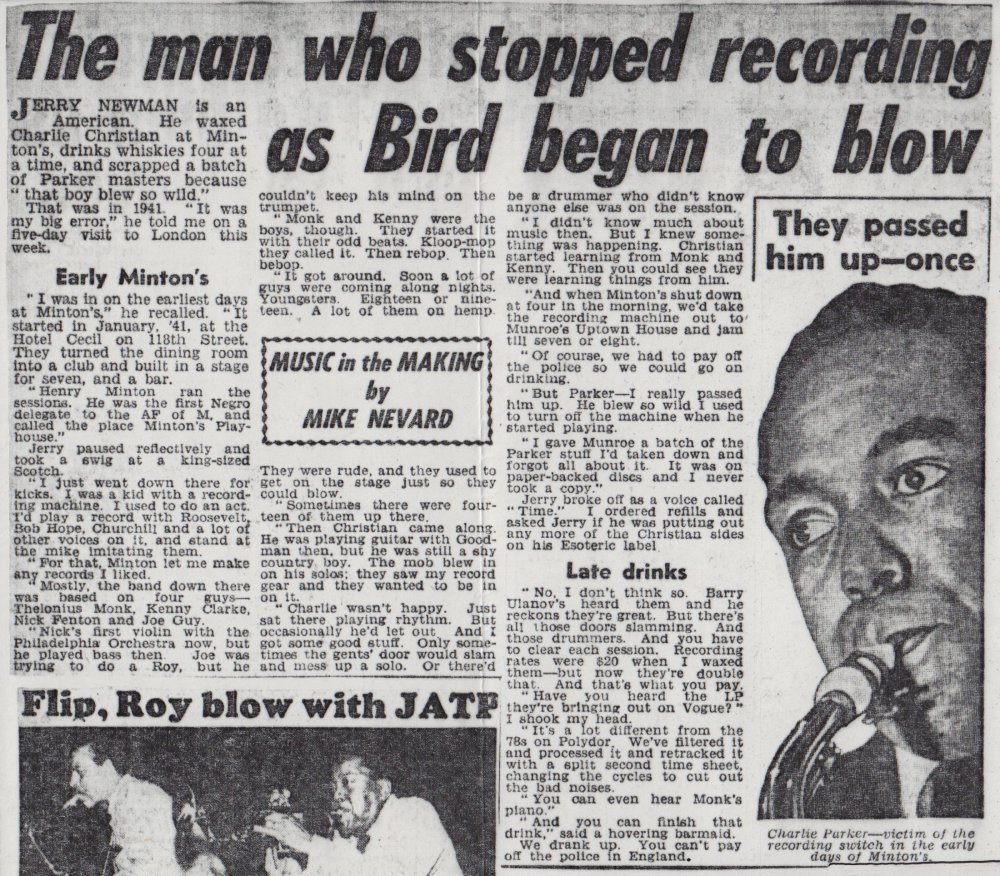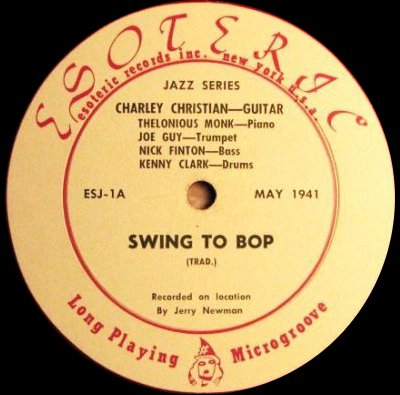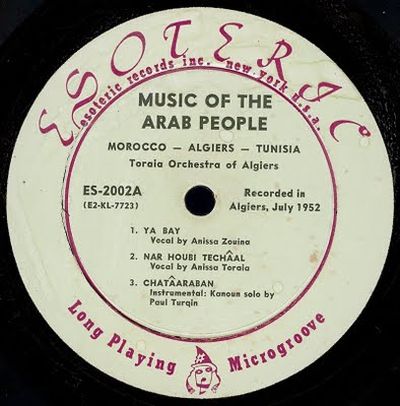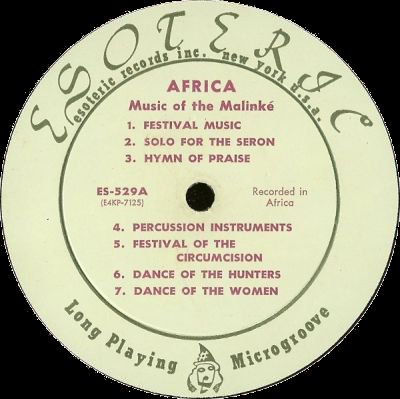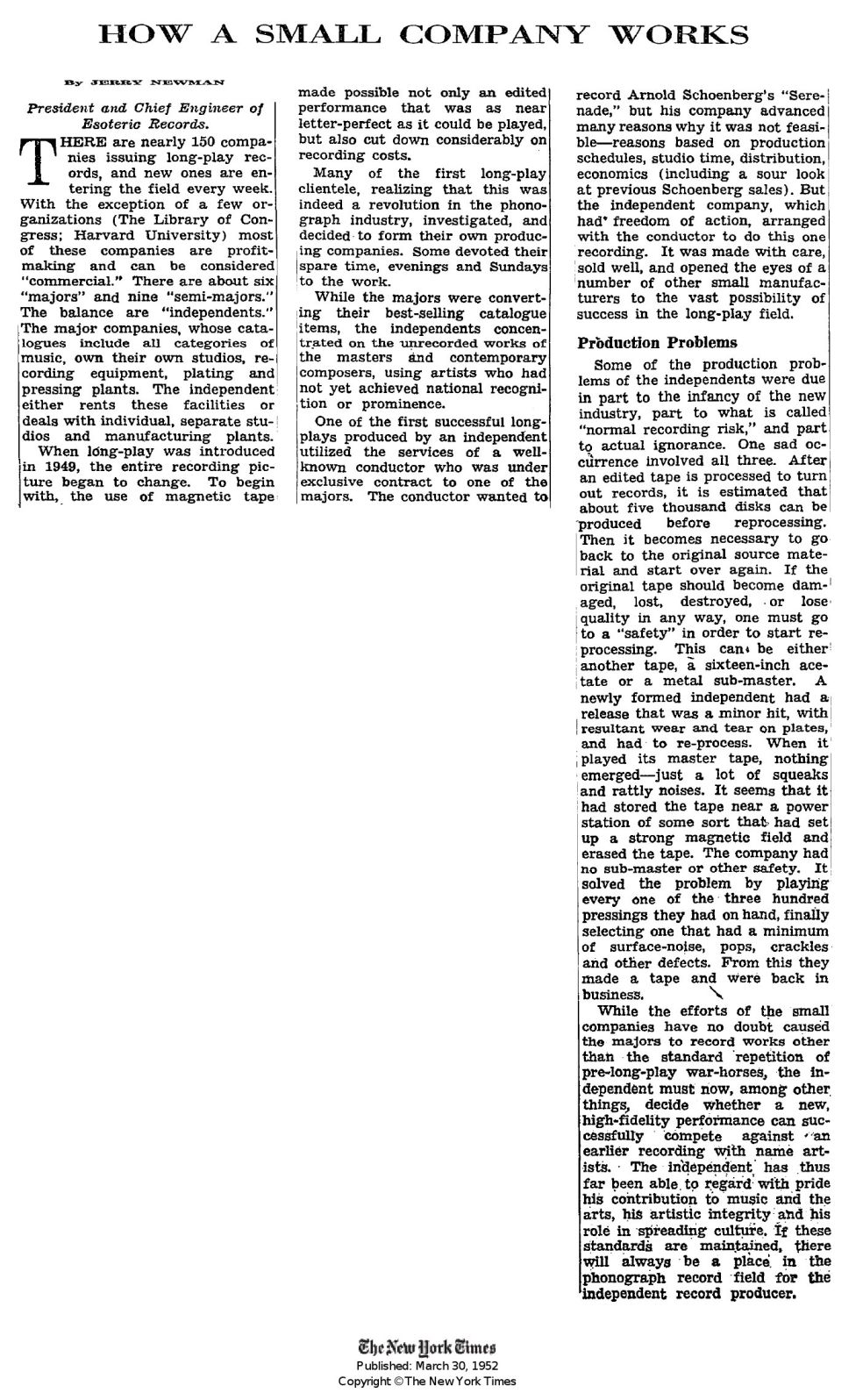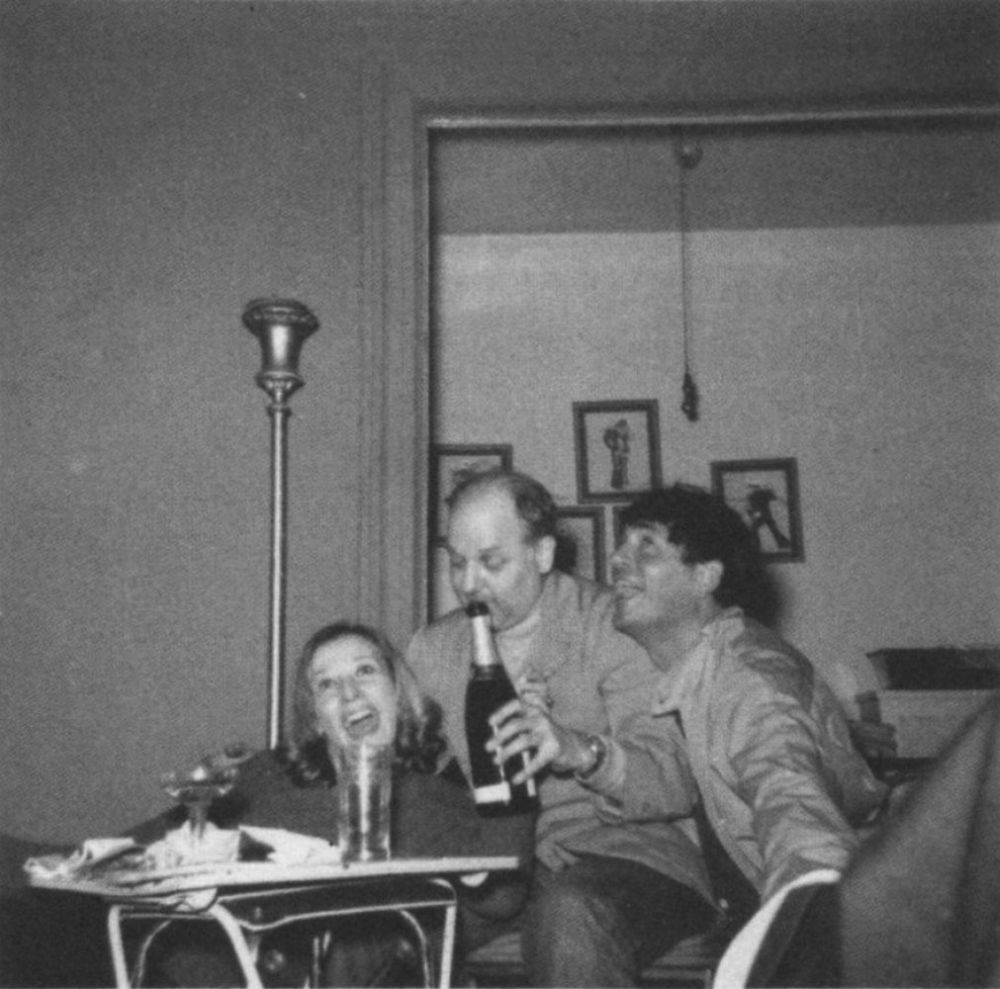 From left to right: unknown woman, Jerry Newman and Jack Kerouac.
(from "You're A Genius All the Time" by Jack Kerouac)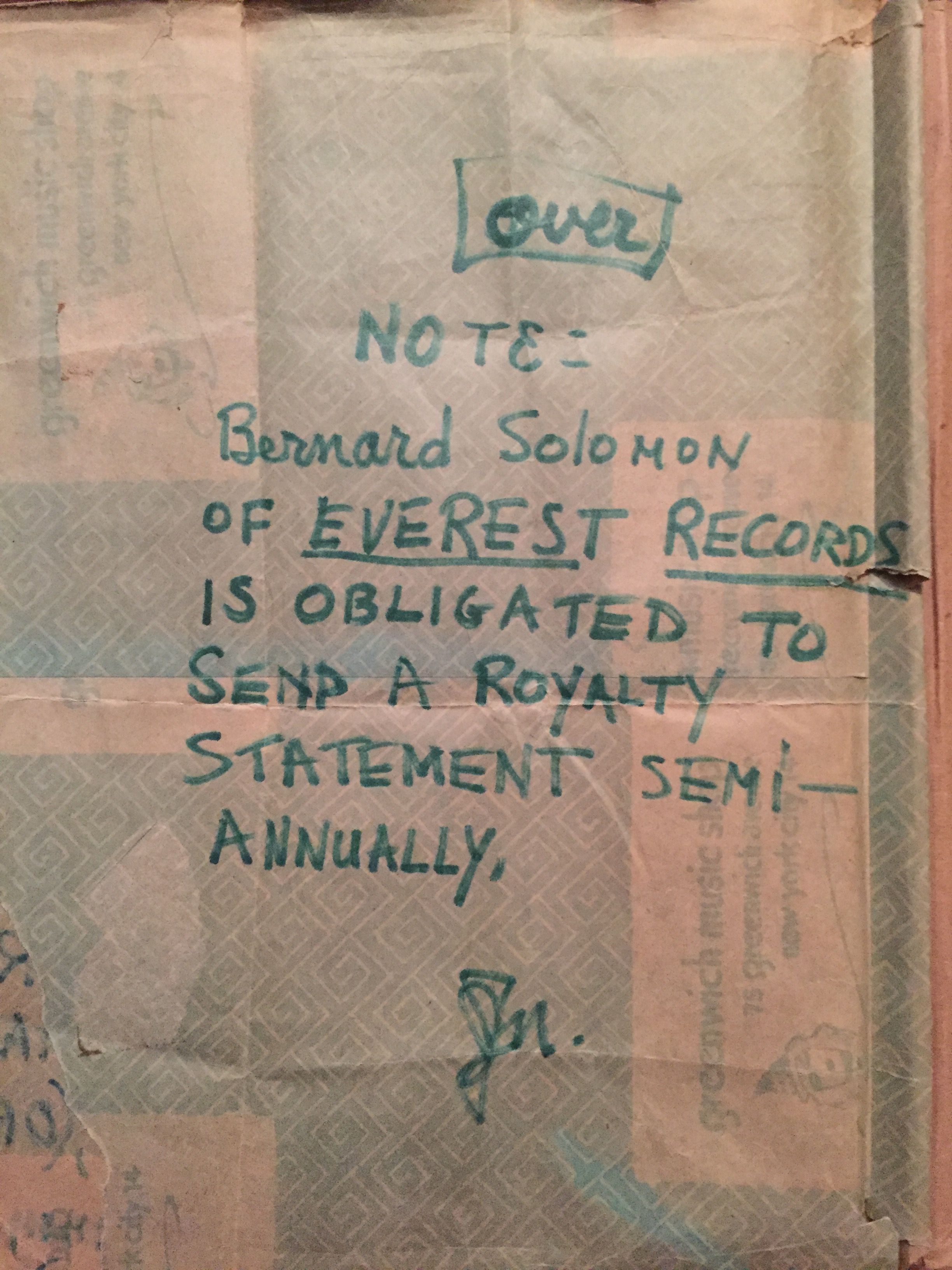 Dated: 31 December 1969.
Jerry Newman died on 1 (or 8) January 1970...
(courtesy Jean-Claude Alexandre)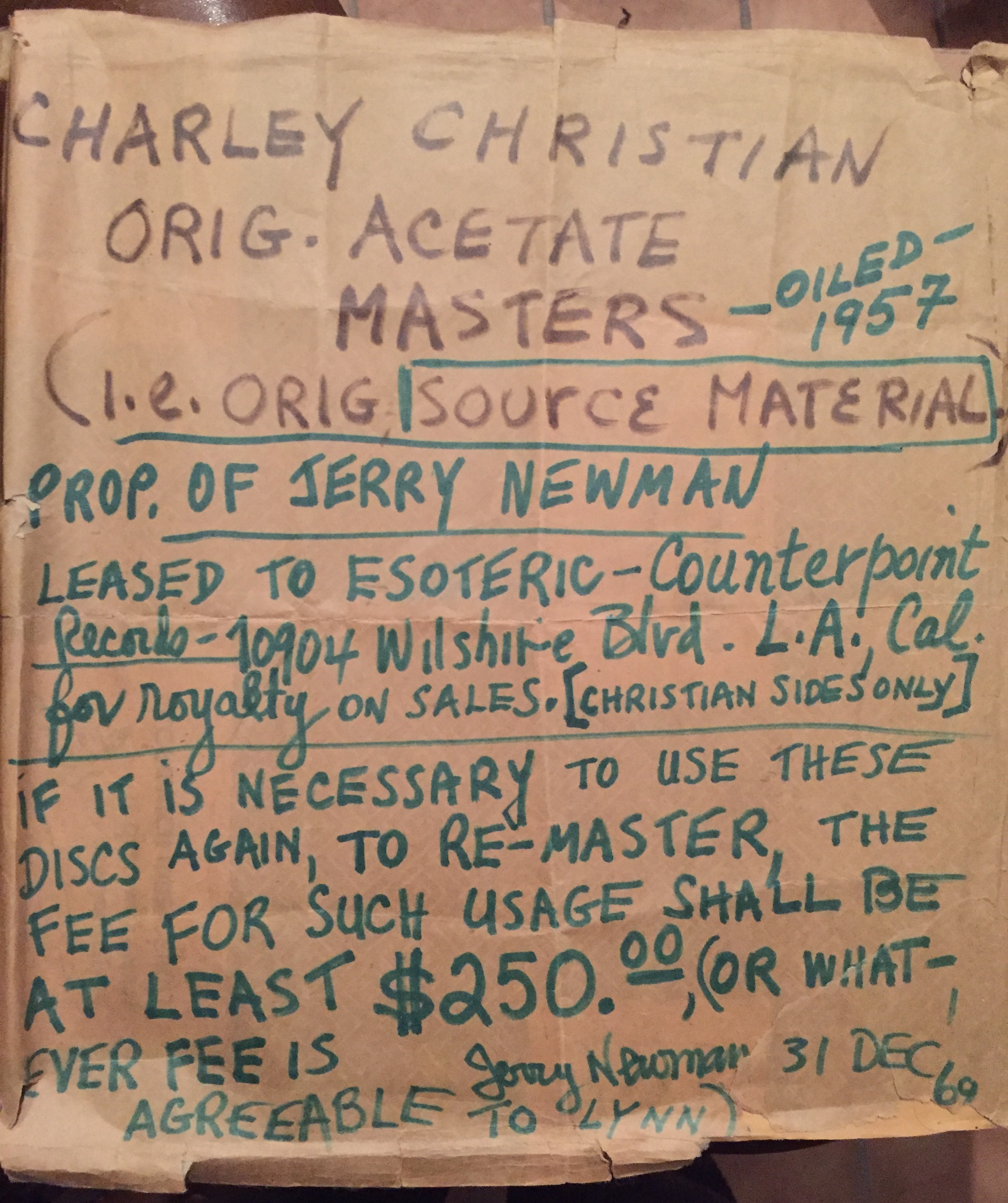 Dated: 31 December 1969.
Jerry Newman died on 1 (or 8) January 1970...
(courtesy Jean-Claude Alexandre)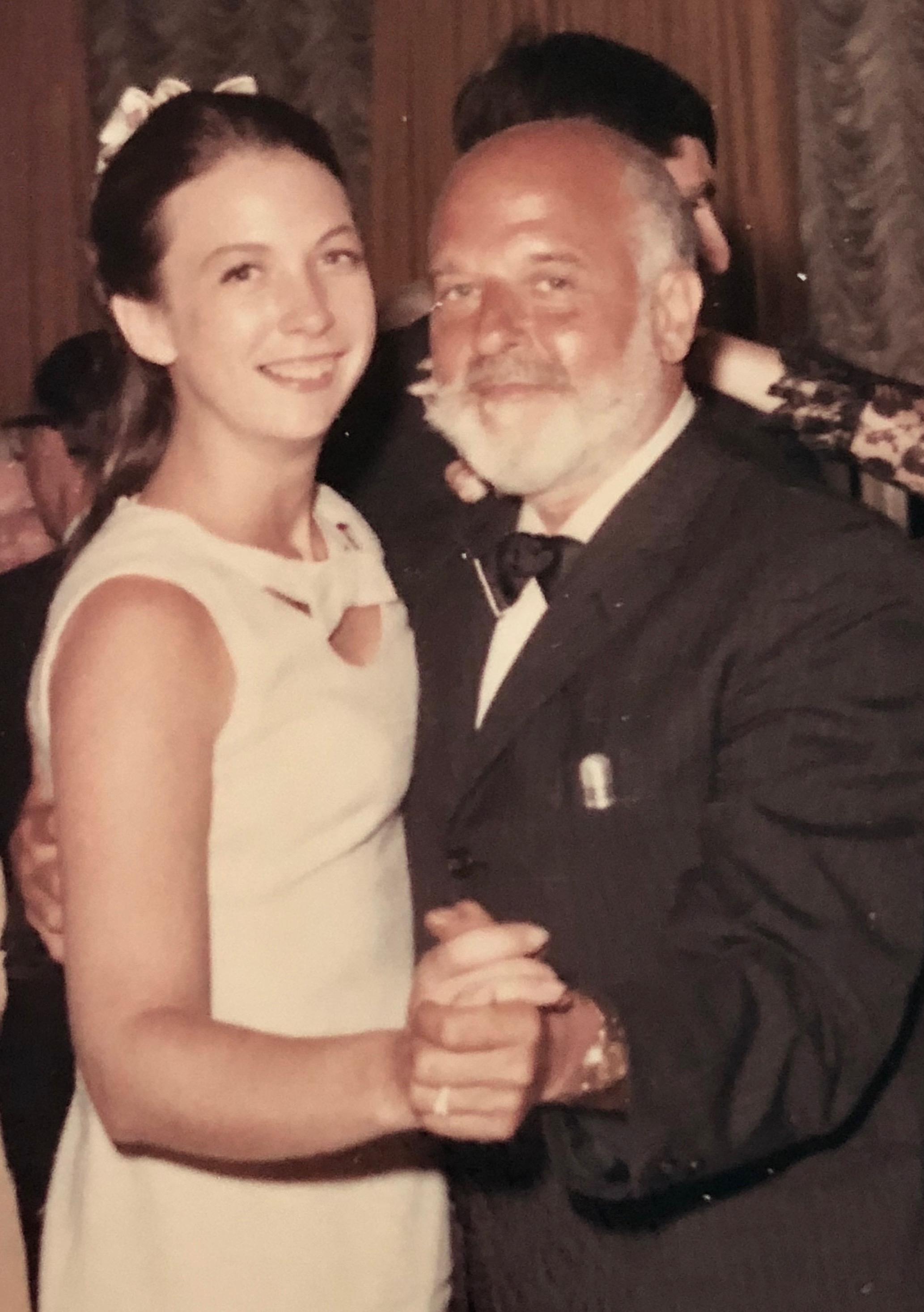 (courtesy Jeremy NC Newman)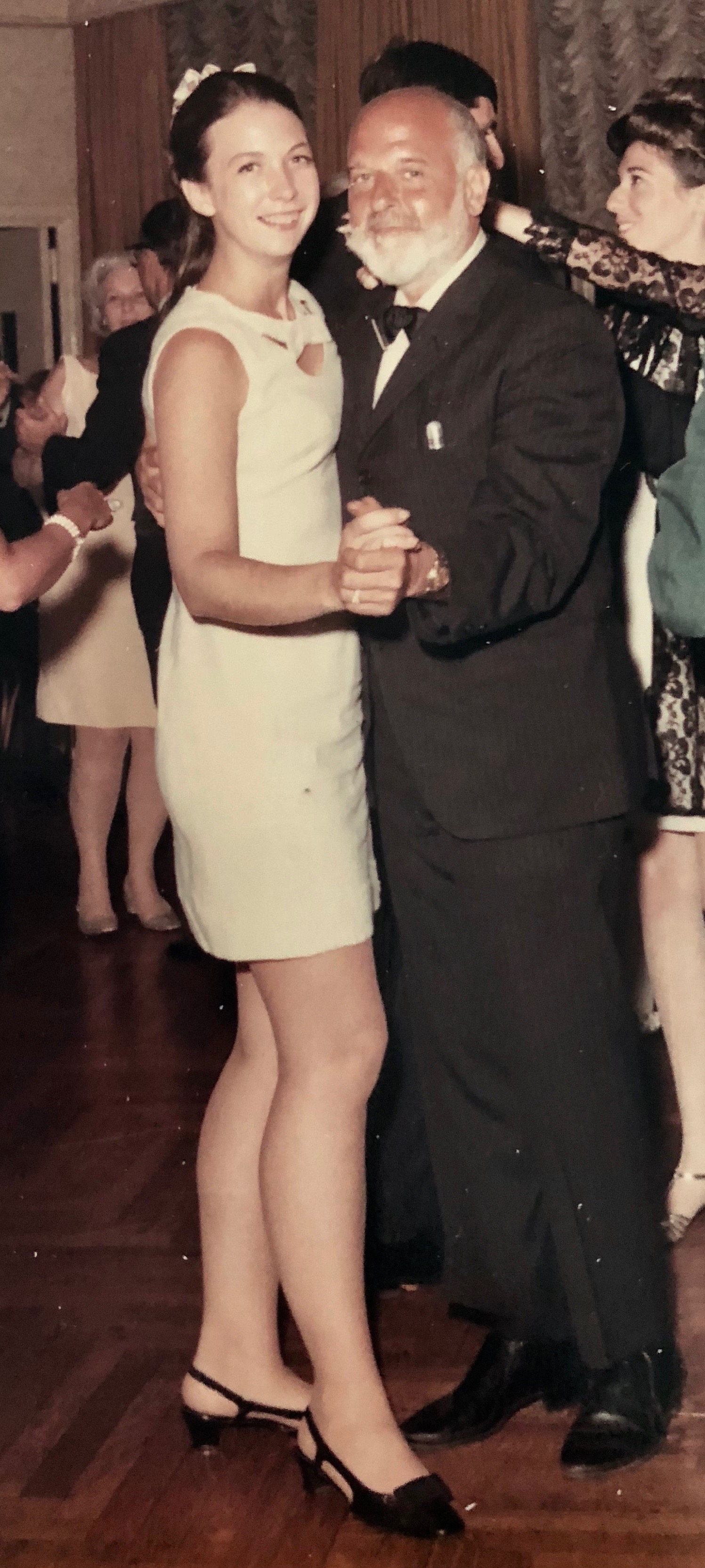 (courtesy Jeremy NC Newman)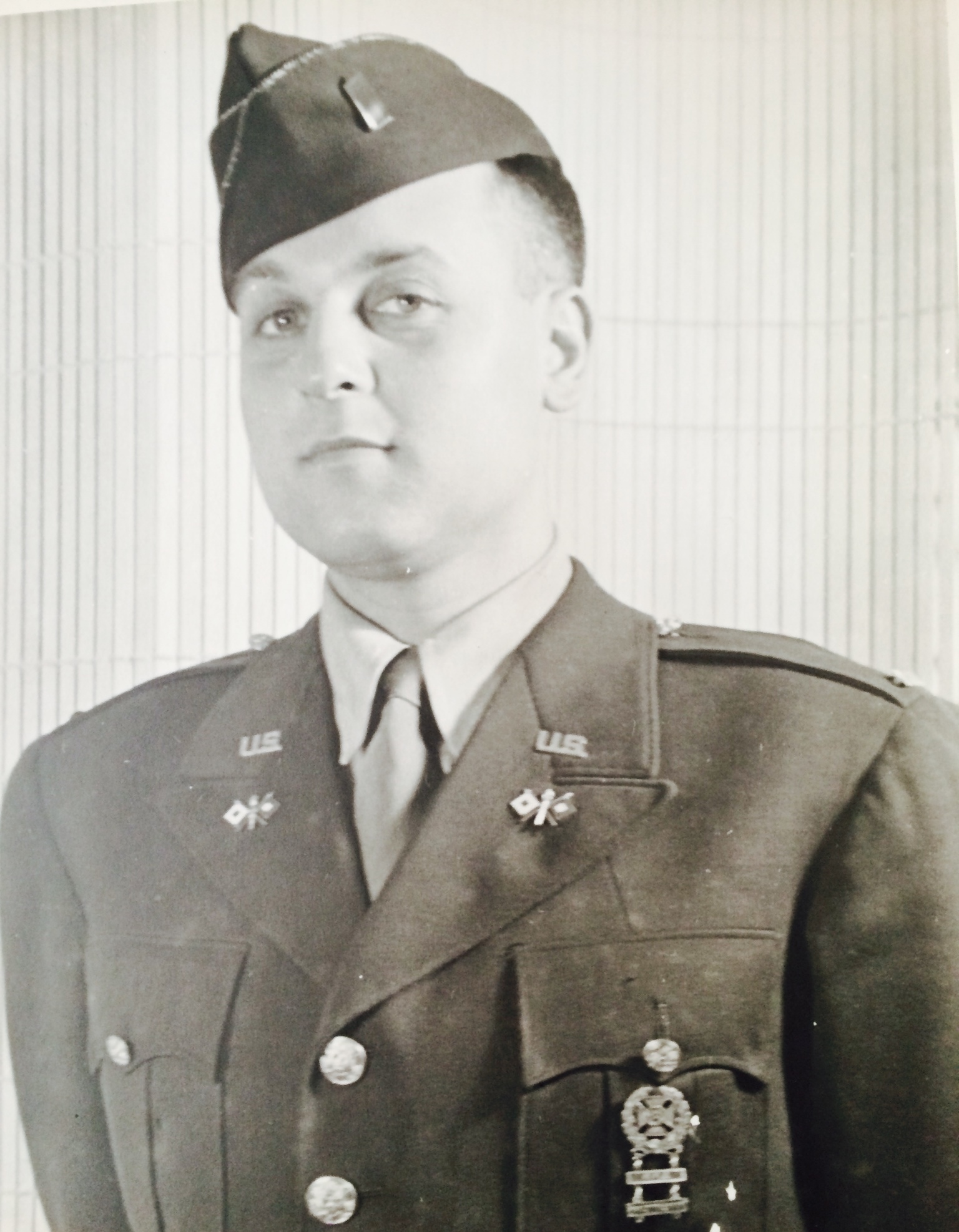 (courtesy Jeremy NC Newman)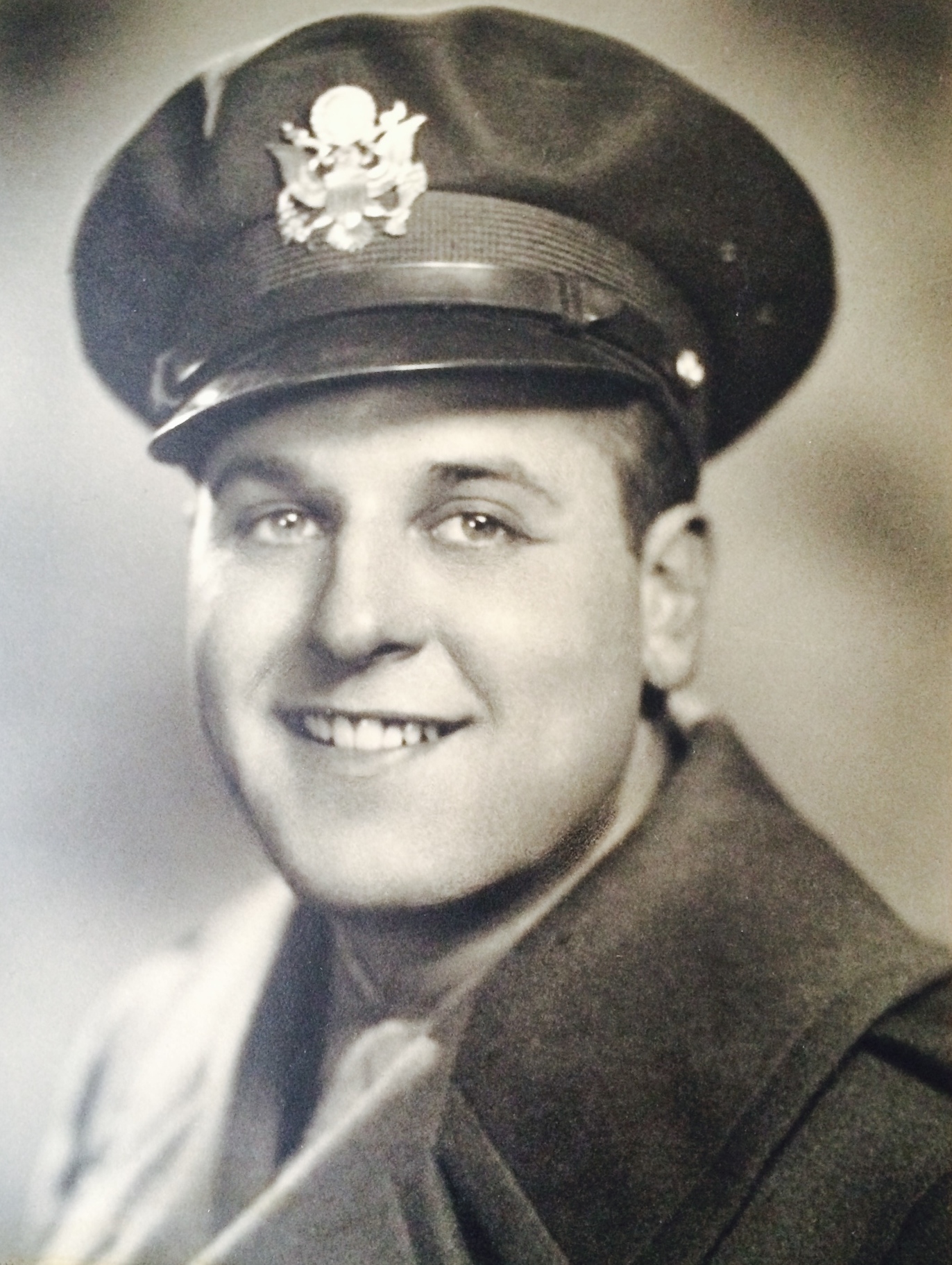 (courtesy Jeremy NC Newman)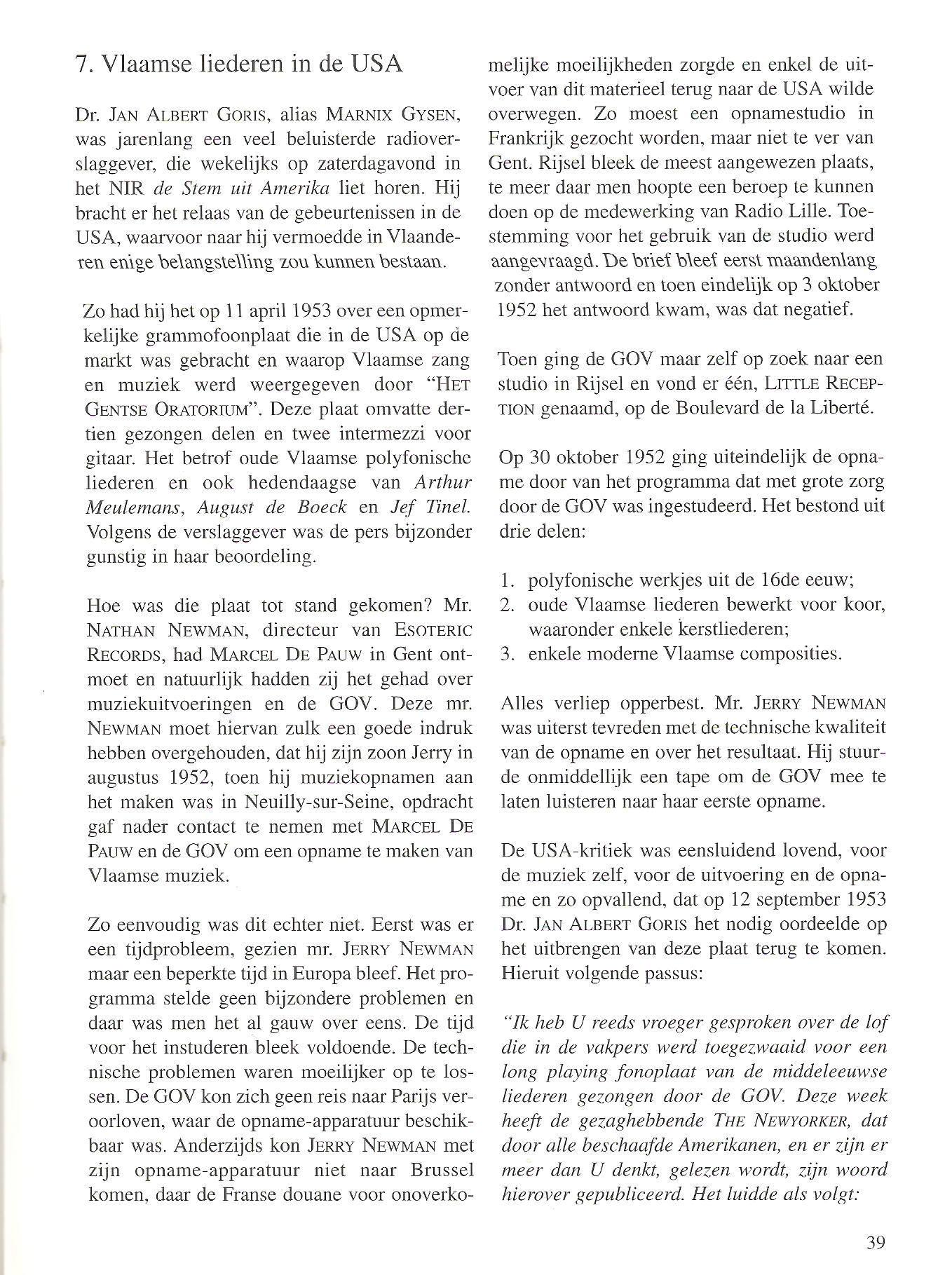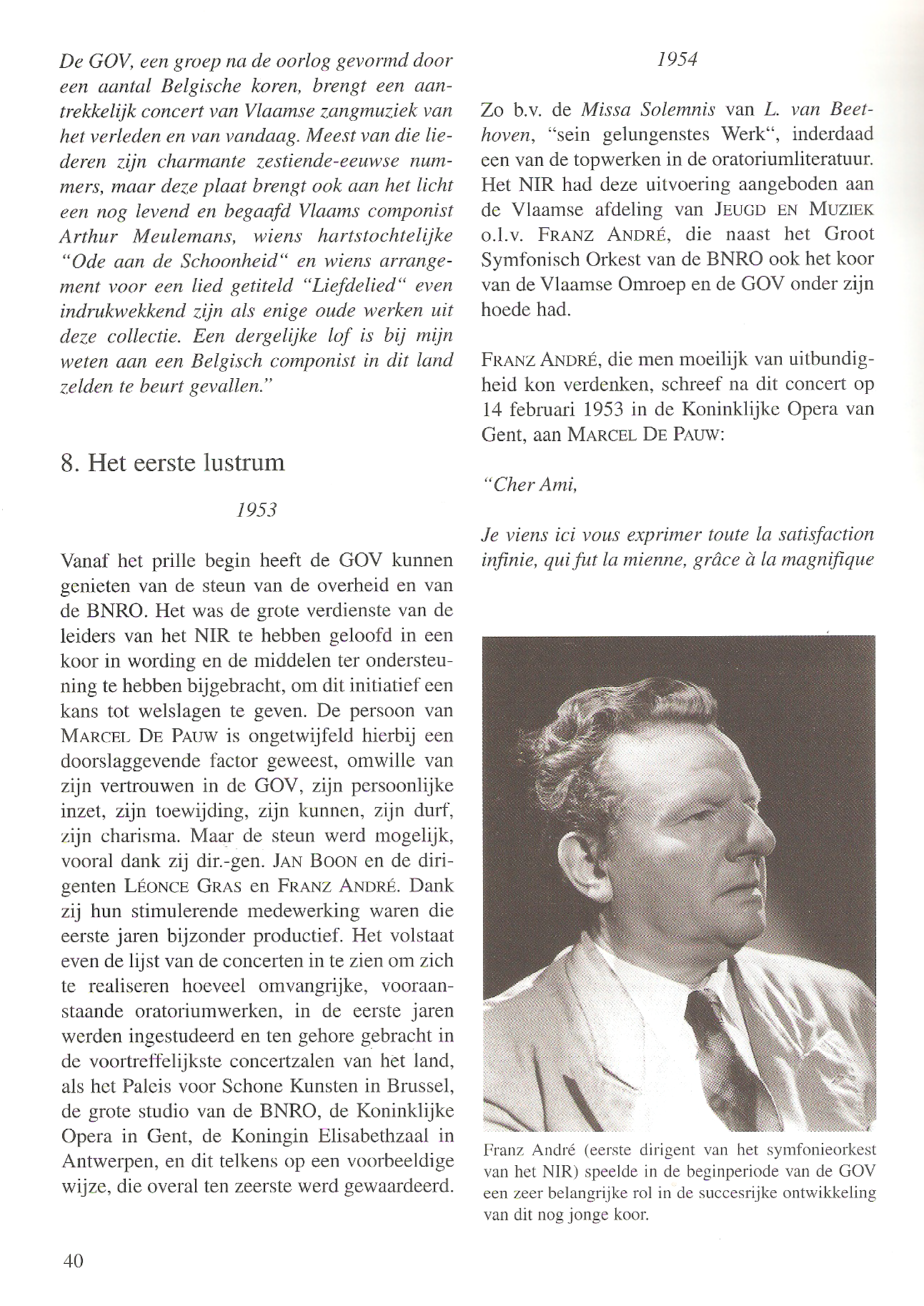 THANK YOU

Dave Moore
Martha Kelley
Pierre-F. Roberge
James Thibaud
Joel Bresler
Maureen Russell
Chuck Clifton
Jeremy NC Newman
Doug Pomeroy
Antonios Doskoris
Jean-Claude Alexandre
Rik de Muynck
Maria Kapkidi (co-researcher RP)

---
---