Douglas Ewen
LARTER

("Duggie")1900 - 1969
aka
Douglas E. Larter, D. E. Larter, D. Larter, Douglas Larter, Duggie Larter
nationality
British
occupation
balance engineer
birth
13 Mar 1900, Chiswick, Middlesex
baptism
Congregational Church - no records available
death
3 Dec 1969, Verwood, Dorset, ENGLAND
burial
Cremation in Verwood district – no records available
marriage
married on 30 Nov 1926, Brentford, Middlesex, ENGLAND:
Mabel Louise EBBUTT


b. 6 Dec 1899, Royston, Hertfordshire
d. 10 Nov 1970, Worthing, Sussex, ENGLAND

children

Derek Ewen


b. 30 Sep 1927, Brentford
LIVING

brother (early baby death – no more facts known or records available)
PARENTS
father
Albert Lewis LARTER


b. 11 Oct 1873, Hales, Loddon, Norfolk
d. 6 Sep 1954, Clacton, Colchester, Essex

mother
Margaret Alice EWEN


b. 10 Nov 1865, Greenwich, Greater London, Kent, London
d. 20 Aug 1941, Windsor, Berkshire (75y)

marriage
they got married in 21 Oct 1897 in Distr. Paddington, London, Middlesex:
children

Elsie Mary


b. 5 Jan 1899, Ealing, Middlesex
d. 11 Aug 1984, Guildford, Surrey

Douglas Ewen


b. 13 Mar 1900, Chiswick, Middlesex
d. 3 Dec 1969, Verwood, Dorset, ENGLAND
LIFE
Joined Gramco on 12 Sept 1923
Actively recording 26 Sept 1924 - 18 Dec 1930 (and in other series afterwards)

Larter's 78rpm matrix codes:
BL (25cm) / CL (30cm)
BLR (25cm) /CLR(30cm)
0L (25cm) /2L (30cm) (from 1 Jan. 1931))


Douglas Ewen Larter's son remembers:

When I was just a toddler Dad was sent to Berlin to help set up recording studios there. The family lived there whilst he went about the task of creating the studios. Miss Irene Hunold (correct spelling uncertain) was the main source of assistance within the German authorities at that time and helped him tremendously to reach a successful conclusion to the appointed task. Dad bought me a large toy dog mounted on a four wheel trolley. This was a sit-on toy with a bark created by pulling a ring in its back. On our return to this country apparently I was very upset when the Customs Officer chalked the nose of Bobbie (my name for the dog)
Later, when I was of school age about 6-7yrs old Dad was sent to Stockholm, Sweden to create recording studios in the city. Again we as a family lived out there and it was there that I watched Dad at work recording and got to know some of his routines in the studio. Later knowledge was gained when I returned from Sweden and attended recording sessions at the well known Abbey Road studios, London. The other main recording facilities used by HMV were housed at the Kingsway Hall, London. This was nicknamed Larter's Lodge because of the frequency of its use for his HMV work.
(Derek E. Larter in a personal communication)



recorder in Berlin (in 1930 to Vienna)

Tomas Ekström replaced Douglas Ewen Larter from March 1937 to November 1939

residence in 1932: 21, Roseberry Gardens, Ealing, London W.5

One of the three senior operators (Beckett, Larter and Davidson) who handles the preparation of classical recordings (March, 1954)

In 1965 a Larter won Grammy Award for Best Engineered Recording, Classical in 1965 (source: internet).

NOTES
The Lindström Project. Contributions to the history of the record industry/Beiträge zur Geschichte der Schallplattenindustrie, Vol. 1 (editors: Pekka Gronow - Christiane Hofer). Gesellschaft für Historische Tonträger, Wien 2009 (ISBN 978-3-9500502-8-8)
Walter Legge: words and music by Alan Sanders (Routledge, 1998, p. 201)
Carl Lindström and the Lindström labels in Scandinavia by Björn Englund (on p. 75 of The Lindström Project. Contributions to the history of the record industry / Beiträge zur Gechichte der Schallplattenindustrie Vol. 1 (Pekka Gronow - Christiane Hofer (eds.). Gesellschaft für Historische Tonträger, Wien 2009.)
The Gramophone Company's Persian Recordings 1899 to 1934 by Michael S. Kinnear. Bajakhana, Victoria, 2000 (p. 15)
Personal dates and locations are taken from General Registry Office documents.
PHOTOS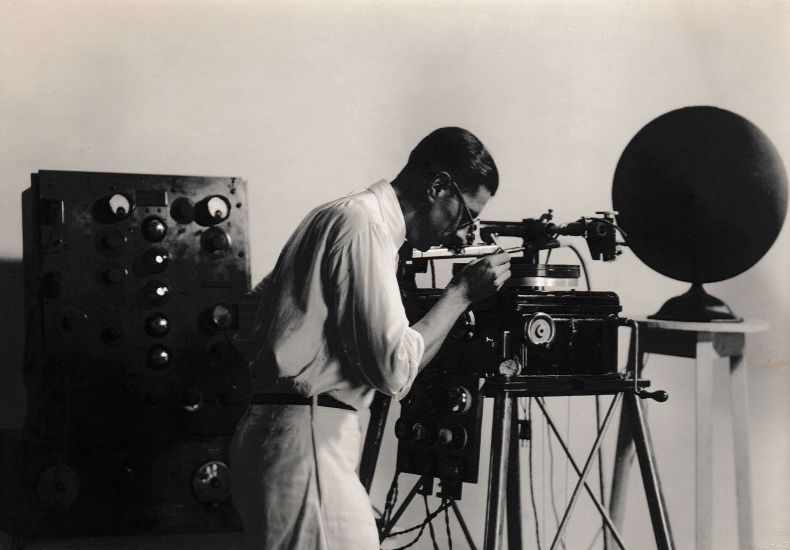 Douglas Ewen Larter
(courtesy Derek E. Larter)
This picture was taken obviously early in Larter's career when he was working in India before his marriage. It shows some very basic equipment but there are facts I can give you about this equipment which you may well find interesting for your research. Behind him is the main power board which has leads leading to the panel shown near his right elbow. The square black box is the motor unit for driving the turntable upon which you can detect a recording wax awaiting his attention for recording. The turntable unit is driven by a large weight on the end of a long wire which he had to winch up to the top by means of the handle shown near the loudspeaker stand before he could use the wax.
Now if you look closely you will gather he is inspecting the edge of the wax at a sample of the groove he is cutting in the warm wax before taking a recording. This cutting was all important for achieving a clear recording of the sound but there is something else shown in that picture which was also extremely important for the attainment of a clear recording. You will notice a tube near his first finger which ended at one end just above the cutting stylus hidden behind his hand and the other end which went back and then down to a suction unit standing on the floor. This unit sucked away the excess wax being cut off from the newly cut groove. This had been a problem in previous months of becoming tangled but Dad was instrumental in developing this precaution for future work whilst working during the era of wax recording. The other round switches were all part of the silent signalling system by coloured lights between him and the conductor in the recording studio when indicating that he was ready to start cutting the sound to the wax. (source: Derek E. Larter).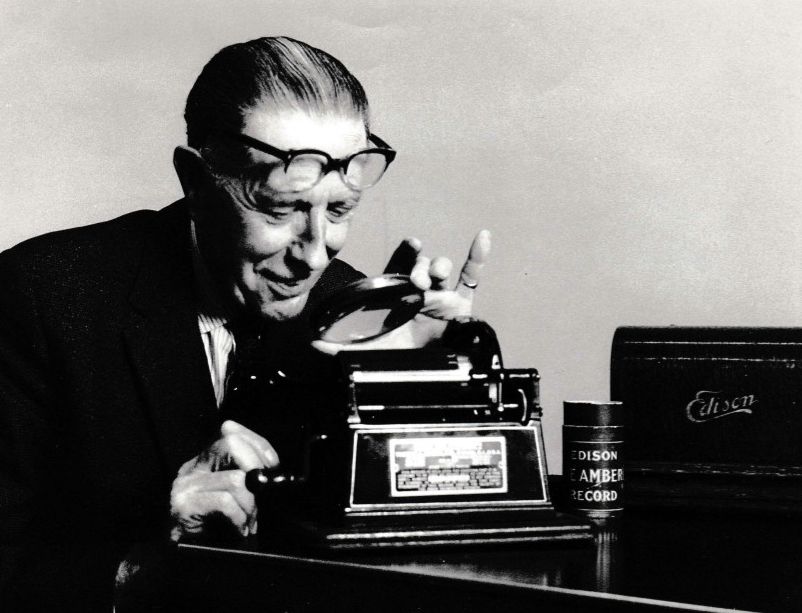 Douglas Ewen Larter
(courtesy Derek E. Larter)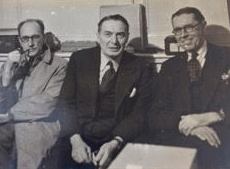 From l. to r.: Harold Clarke, Bob Beckett and Douglas Larter.
(Harold Clarke is either Arthur Clarke's brother or a typo for Arthur Clarke).
Handwritten caption says: retired in 1960.
courtesy: Peter Beckett
THANK YOU

Derek E. Larter
Leslie Gage
Michael Lloyd-Davies

---
---